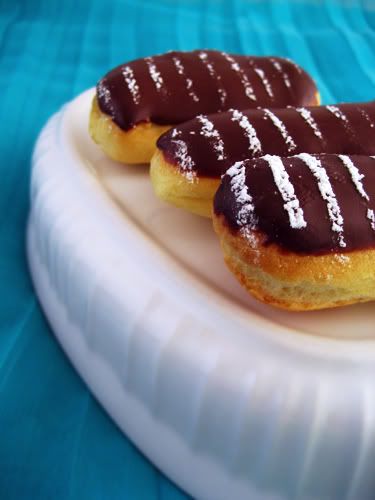 The summer before Hub and I got married, I worked in a bakery formy alma mater. I started at 6 a.m. (my boss was always there about 3 hours earlier) and my main job was making brownies, and éclairs. When I found out about this month's Daring Bakers challenge, I immediately became nostalgic. That summer was a fun one when a lot of great memories were made, one being the most memorable day of my life, when I knew Hub was all mine. oh yeah. But when I thought about the éclairs themselves, they weren't one of my top memories.



I was quickly put in charge of making all the éclairs because they soon uncovered that I had a natural talent at making them. I made the choux surprisingly well the first time, (the recipe I used was about 20 times larger than the challenge recipe) I caught on quickly in shaping them well, baking them in our industrial oven that was big enough to bake me, filling them while keeping them meticulously clean, and decorating them beautifully. – The decorating part I attribute to my mother, she taught me at a young age the basics of buttercream icing. – After they realized my knack for these little pastries, I was completely alone in making éclairs all summer. I made hundreds, and for hours. I would get to the bakery and there would be an order for 1,000 éclairs that day; my day was spent covered in choux, custard and buttercream. And although I was continually to my nose in them, I never really got sick of making them. I just wish I would have had some help, or a break every now and then! To be honest, I can't imagine having to make éclairs for the first time alone. At least I had help my first time learning. So to all you Daring Bakers who tried this for the first time ever, and alone; I commend you.

How it went down:
When I announced I was baking, Hub got really excited thinking that I would retry my banana bread. He's apparently been in the mood for comforting quick breads done well. I was sad to disappoint him by telling him I'd be doing my DB challenge. He even offered to help me in the kitchen… if I were to make the banana bread. Well, I made the banana bead the next day so even though I didn't satiate his craving immediately, I'm still a good wife, and he still enjoyed the éclairs.

I made the Chocolate glaze first, and had a ton of chocolate "syrup" left over. My syrup ended up being too runny, because I don't think I let it boil to the syrup temperature (230°F). I couldn't let it though, it would bubble to the top of my small pan and would have "runneth over" had I not pulled it off the heat and blown on it until I was dizzy. We only have two pot sizes… small-ish mini and ginormous. So my sauce only made it to 200°F. It still worked out though.

My filling was one I've made before, for my Danish. Lilac Cordial Custard. For some strange reason it didn't some out as creamy and smooth as when I made it for the Danish. I think it was because I used a whisk this time instead of a fork when I was mixing the boiling cordial into the egg-y mixture. Oh, and I didn't have my helper to pour in the cordial while I whisked my heart out… *tear flick. I filled each of the éclairs by poking a hole in the end, then inserting an icing tip on a bag of the custard and piping some in til' no more could fit. hehe



I used a freezer size (gallon) ziploc to pipe out the choux into éclairs. I snipped off the end corner for a piping hole. Then after they were all baked, I found a stash of pastry bags with all the icing supplies my Mother had given me last month... doh!

I was happy to see that (after over three years) a few of my old éclair making habits came back when I got to the pastry itself. The choux wasn't a problem at all, I used a whisk to mix in the first little bit of flour, and then a wooden spoon to mix in the rest. I was happy that I remembered a trick I learned at the bakery on how to make perfectly, and evenly sized éclairs. Take a parchment paper the size of your cooking sheet. Fold it in half "hamburger style". Then another time, or in thirds, depending on how big you want your éclairs. I liked the "in thirds" size. Unfold, smooth out, and alternating each row, pipe out your éclairs within the row lines. Voila, you have perfectly even sized éclairs.


This fold makes larger éclairs. Folded in half, then in half again.



This one is done by folding it in half, then in thirds. I prefer this size rather than in fourths, they're the perfect size.



Here are the two different parchment paper folds with éclairs piped onto them. The left is folded in quarters, the right in sixths (with an up close photo as well).



I figured you'd like a close-up of the last éclair I piped. It's always an individual, the black sheep of the choux family. :)

Reasons I Loved This Challenge:
After doing éclairs that summer, I tried scaling down the recipe I had used (and memorized) to make a smaller amount of choux at home. My scaling rarely ever worked at all, they'd more often than not end up as a runny batter and more than half would fall when I baked them. So I'm happy to have a choux recipe that worked beautifully. I only had two fallen pastries when they cooked. I think the propped open door trick was what helped puff them up and dry them out a little more.




Will I Make 'em Again?
If I ever have the inkling to. I think I've lost my admiration for the little pastries, which is the only thing I regret about having to make them so often. If I had a friend that adored them, I would make some for them as a gift. Another reason I probably wouldn't make them much is because Hub isn't too fond of them either. Well, maybe it's only because his craving is at the moment geared towards quick breads.

What I Would Do Differently:
The only thing I would change, if/when I make them again, is to make the filling well or choose a different one entirely. Hub thought they tasted really egg-y because the pastry was egg-y, as well as the custard. I would also use a different chocolate glaze recipe. It was a bit on the overpowering side, and I thought a waste of a lot of good chocolate (I even used a little less than the recipe called for). Hub thought it was too much chocolate as well, he said it tasted bitter which made me glad that I hadn't used the whole amount of chocolate called for. It was a good contrast though, the intense chocolate and light and sweet cordial custard inside.

My Favorite Part:
Piping out the choux. I know that may sound weird, but somehow it was nostalgic, therapeutic and satisfying. Plus I love that they came out so well. Picture perfect, non?



My soundtrack: My Pandora station "chillin" and then when my laptop passed on, my iPod which was playing lots of Muse. I listened to all their stuff that I love, they can occasionally be a bit too harsh for me especially when I cook. I like to (try to) create a relaxed ambiance. :)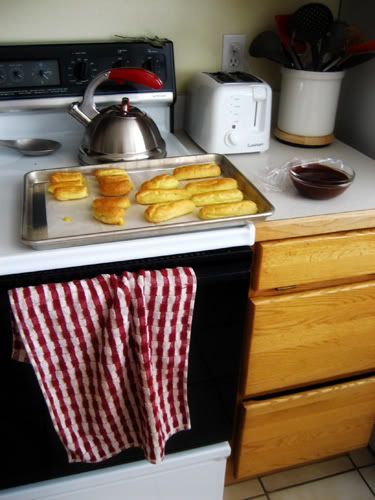 Be sure to check out all the other amazing bakers and their adventures in the taming of the choux! (click on the Daring Bakers logo)
Also, a big thank you to the hosts this month, Tony Tahhan (love all his pics with a baguette or some other kind of bread) and Meeta K. this was a fun challenge!! You can also find the recipe for these little french delicacies on their sites. Go forth, be daring!




My previous DB challenges:
June - Danish
May - L'Opéra Cakes

Don't forget to vote today for the Iron Cupcake Earth Champion! Here's my entry, in case you forgot...
I'll have a list of my favorite entries in a day or so. Voting continues until 12 noon central time on Thursday, September 4th. Go BSCCC!