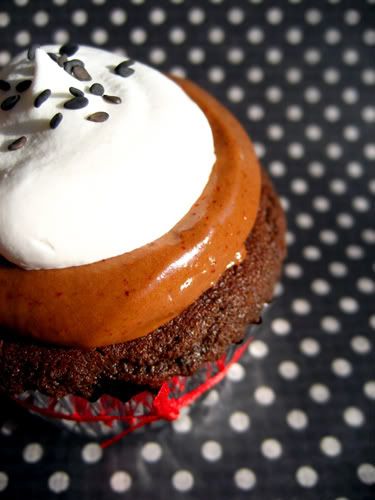 Well, if you read my blog, and how I like to sign up for lots of food blogging events you knew this was on its way. I made these little cakies a while ago, but since school has begun and I've been getting things organized for all that comes with teaching a bunch of children/teenagers, I've had little time to actually sit down and put a post together with PS-ed pictures and all. I was grateful that I had written down what I did and my recipe before I forgot it though. I credit divine inspiration...


So for those of you who don't know what the Iron Cupcake event is, go visit the Iron Cupcake blog that describes it all. And guess what? You can still play along! I'm not sure if you'll get a shot at all the amazing prizes for this month, but still it's fun to be an Iron Cupcaker.

As for the prizes, there are quite a few for this month's challenge.
The donors are Cakespy, Jessie Steele Aprons, The Cupcake Courier, Taste of Home, Fiesta Products and Hello, Cupcake. Such fun stuff! Thank you donors and a special thank you to the woman who put this whole thing together, Sandy at No On Puts Cupcake In a Corner. She's fabulous.




I also want to add that everyone that wants to vote will get the chance to. This is how the winner is determined. Check out all the amazing Iron Cupcakers at Sandy's Blog on Sunday, August 31st and then get voting for your favorite cupcake. (This is where I say, pick me! pick me!) No pressure though, there are some pretty amazing cupcakes out there that I'll be voting for.

Here it is, my recipe for the Iron Cupcake: World event!



So ever since seeing Chocolat, I wanted to team up chocolate with chili pepper. I had never tried it before, but according to the movie, it's done quite a bit. I decided the Iron Cupcake event would be a perfect time to do it considering this month's challenge ingredient was chili. I also figured (and was right in doing so) that most people would pair the two together. I also had been wanting to make chocolate and black sesame cupcakes, so I thought it only right to adventure on in making a cupcake that had all three ingredients in my cupcake entry; chocolate, black sesame, and chili.

I dedicated this recipe to my baba, whose name, favorite pepper and love for black sesame candies and things muy caliente inspired the recipe. I also wanted to make it diabetic friendly, since baba was recently diagnosed with type II a few months ago. Unfortunately because of a lack of time and know-how, that didn't happen; much to my disappointment. I still want to figure out a way to make them diabetic friendly so baba can eat as many as he wants. I've also yet to pin a name to these little cakes. So if you have any ideas, let me know!

The method is pretty simple. The ganache is piped into the center of the cake batter, then they bake like regular cupcakes. Pretty simple eh? The hard part is putting in how much ground chili pepper you fancy. So many times I put in way too much... I was sneezing and coughing all over the place. Milk was my friend that day.

The Sesame powder was at Chao's, my favorite asian foods store in the bubble. Albeit it's also the only one that I know of within 5 miles of our home...



I got the dried peppers at the Latin foods section of our grocer. Then we found a local store that sells it all for much cheaper! But that's for a later post... :)



Black Sesame Chili Ganache

6 oz. bittersweet or semisweet chocolate
¾ cup heavy whipping cream
A few drops of vanilla
3 Tablespoons ground sesame noir
1 Tablespoon corn syrup
½ tsp. cayenne pepper
1/8 teaspoon habanera powder (or to taste)

Place chocolate in a medium bowl. Bring cream and vanilla to a boil in a small pot. Pour hot cream over chocolate, cover with saran wrap and let sit for 15 minutes (This is when I put together the frosting). Whisk cream and chocolate until smooth. Mix sesame seeds and corn syrup in a small bowl, then add to chocolate mixture. Let cool until lukewarm. Add chili powders according to taste (do a little less than called for and add more habanera powder as desired). Cover and let stand at room temperature for a few hours or overnight.




Mixing together the sesame powder and corn syrup.



mmmm... esta caliente! really, I'm warning you. They're HOT.


Chili Chocolate Frosting

2 oz. bittersweet or semisweet chocolate chips
¼ cup whipping cream

6 oz. cream cheese, softened
½ stick butter, softened
2 Tablespoons whipping cream
1 cup powdered sugar
About 2 teaspoons Hot New Mexico Chili powder (a warm chili powder)
Teensy pinch Habanera powder (to taste)

Over double boiler melt chocolate and cream together.
Beat together cream cheese, butter, melted chocolate and 2 Tablespoons whipping cream until creamy. Add the sugar and chili powder and beat until glossy and smooth. Whip in the pinch of habanera powder, adding more as desired.



This is my makeshift double boiler.



I love creamy chocolate, especially 60% cacao mmm....



Some more ground habanero pepper! For the frosting I didn't even use half of what you see there. And that's a ¼ teaspoon measuring spoon.

Sesame Noir Cupcakes
Makes 2 dozen, or 24 cupcakes

1 ½ (170 g) sticks unsalted butter
1 ½ (340 g) cups sugar

½ cup ground sesame noir
2 eggs
1 ½ teaspoons vanilla extract

¼ teaspoon salt
1 teaspoon baking soda
1 ½ teaspoon baking powder
¾ cup cocoa
1 ¾ cup flour

1 cup milk
¼ cup heavy cream

¼ teaspoon white vinegar

Black Sesame Chili Ganache

*Most Asian markets sell bags of already ground black sesame; they're used in sesame buns and drinks. It's also more affordable that way rather than grinding your own sesames.

Preheat the oven to 375°F (190°C).
Combine dry ingredients in separate bowl, set aside.
Cream the butter and sugar together in a large bowl or mixer. Add sesame, eggs, and vanilla until well incorporated. Gradually mix in the dry ingredients, then milk and cream, and beat for a couple minutes until smooth. Right before you fill the cupcake tins, add the vinegar.

Fill cupcake tin about 2/3 full and pipe Sesame Ganache into the center until almost full. Bake for 16-18 minutes or until toothpick (stuck into side, cake only part) comes out clean. Cool completely before frosting.



See how easy? I used a plastic bag and snipped off the end corner. Worked like a charm. See the coloring difference? The ganache is slightly darker than the batter.



Hope you enjoy!

The flowers were from Hub. He's so thoughtful. I made these on our anniversary, and he got me roses... They were beautiful and smelled fabulous.

Here's a cross section of the cupcake, I thought you'd like to see inside.



Oh, and this is what happens when you put lots of showy, pretty presentation stuff on the top of your cupcake and let it sit by itself without holding the top on...



Here's my taste tester scarfing down his second cupcake. Yes, he fit in the entire thing. "fun just to watch 'im."