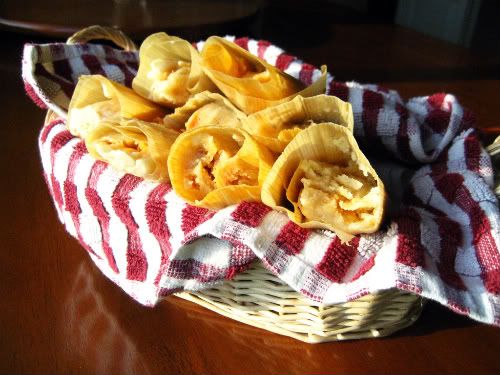 When I heard about this month's challenge, I was stoked. I've always had tamales on my list of things to make but of course, I never did it because it seemed so intimidating! If I'd have known how simple it was, I'd have been making these for years! I'm sad I've been missing out, but oh so ever happy that it will now be a regular happening in our home.



When I told Hub we were going to make tamales together, he was really excited. A neighbor from back home would give his family extra masa, so he remembers making tamales a few times in his childhood. I had never made them before, but always had friends that would brag that their families would make them every holiday season, I was jealous. I love tamales.

We got most all of our ingredients from a mexican store down the street from us. The benefit of living near the southern border - stores like these are everywhere. I only wish I knew spanish. Everything there was significantly cheaper, a few dollars for more than fifty husks! They were $10 for 20 at the other place...


look at all those dried peppers!


My Method:
I loved doing this because Hub really got into it. We made a chicken filling with chorizo (yum!) and lots of chili! After Hub lived down in New Mexico, serving as a missionary for our church, he's had a love affair with green chilies or rather, everything chili! So of course, we had to have lots of spice. We even had "Hot New Mexico Chili Powder" in there.




I put Hub in charge of making the masa as I was making the filling. He cheated and used a different recipe, but I couldn't get upset, he's not obligated to obey any type of rules. Plus the recipe he used was exactly the same as the one given, just a smaller proportion. It was still yummy and made the perfect amount. Enough for about 20+ tamales.



The chicken (thighs), baked with only NM chili, ground chipotle peppers, some garlic and S&P. Soooo good.



So easy!


Reasons I Loved This Challenge:
They were absolutely delicious (even after being in the freezer for a couple days) and it was Hub's favorite challenge R2R has done so far. He's officially decided that we will be making them often.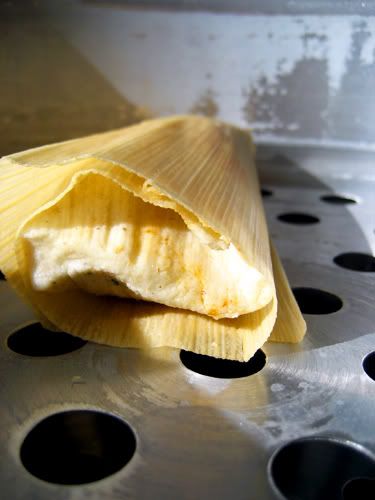 We even took a bunch with us when we went camping (to celebrate our 3rd anny) and we ate them fire grilled, they were much more dry than when we initially made them but they were still so yummy. I love tamales!





Will I Make It Again?
Abso-friggin-lutely.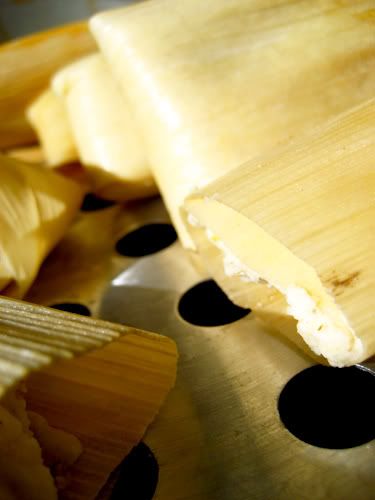 What Would I Do Differently:
Try different fillings for sure! Hub had the idea of putting different spices and other flavorings in the masa itself. We love tamales!



Our tamales steamin' away. My steamer was a gift from my baba, he spoils me.

My Favorite Part:
That it was something we both loved preparing, and making, and eating. Did I mention? We love tamales!

Our soundtrack: We should have been listening to the Gypsy Kings or something else festive like that... but I think we were listening to Jason Mraz. Uh-oh, I can't remember! We watched Drill Bit Taylor while we ate them though, I remember that for sure. It was a pretty funny movie.



Everyone should totally try these, but you'll have to make them yourself! We ate all ours...



click the pic to see everyone else's fabulous cuisinery!

Previous Challenges:
June - Ratatouille
July - Thank George's Bank